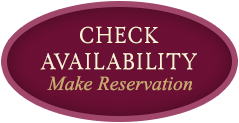 Reservation Policies
Deposit
A 33% deposit is required for full rental of the inn for weddings, groups, events, etc.
A 25% deposit is required for any reservation made in the peak season: Nov-April.
Rates
Rates are subject to a 6.85% sales tax and 4.25% transient tax, and 1% restaurant tax. Rates are subject to change without notice. Some restrictions do apply.
Payment Methods
We accept Visa, MasterCard, Discover and American Express only. We do not accept personal checks.
Room Occupancy
Our standard guestrooms accommodate no more than two people and our family rooms, no more than four. Additional charges will be applied if this policy is not adhered to. If abused, eviction without refund or alternative lodging will be enforced. We sincerely appreciate your kind consideration.
Pets
To accommodate all of our guests, no pets are allowed.
Smoking
The Snowberry Inn is a non-smoking environment. Smoking is allowed outside 25 ft away from building. Any violations (smoking inside the Inn) will result in a $100.00 fine.
Check-in / Check-out
Check In. Preferred check-in time is between 3:00 PM and 8:00 PM. Check-out time is 11:00 AM. Earlier check-in and later check-out must be prearranged with Innkeeper. Early check-in/late check-out fee is $20 per room for up to three hours early check-in/ late check-out (excludes group check-in; times will be discussed when making reservation). Over three hours (early check-in or late check-out) will result in a half day's room rate charge. NOTE: There is no charge for late arrivals after 8:00 PM. PLEASE notify Innkeeper prior to arrival to receive late check-in procedure OR you may get locked out!
Reservation Changes
No changes to reservations will be accepted via email (i.e., cancellations, date changes, upgrades, packages, etc.). Please call to make changes.
Discounts
One discount per reservation. We offer discounts for AAA, seniors and military.
Gift Certificates
Gift Certificates cannot be booked online; please call for room availability.
Ski Lift Ticketes
As a courtesy Snowberry Inn can provide discounted ski lift tickets to Snowbasin & Powder Mountain to guests at the Inn. Reservations for Ski packages must be booked at the time of original reservation. If you choose to not purchase a package at the time of original reservation, you may add lift tickets up to a month prior to your arrival date. Requests received within the month of your arrival are possible but not guaranteed. Packaged discounted room rates cannot be adjusted after original reservation is made.
The Snowberry Inn reserves the right to impose the following Cancellation Policy.