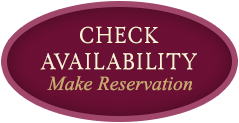 Backcountry Room
Room is located upstairs
Queen Bed (Maximum 2 guests) & Shower

Backcountry could be rough wilderness but instead you are escaping to a wilderness wonderland! From bearskins to elk antler towel racks, this room is as cozy as a woodsy cabin with all the luxury of a four star hotel.
Go back in time to the early trappers, traders and explorers. Finding food from the resources that surround you, keeping warm with the skins of animals and becoming familiar with the land was a daily regimen for the early settlers. The Mountain Men that preceded the settlers have commonly been referred to as authentic American heroes. This room depicts the many aspects of these men.
Rates include full hot gourmet breakfast!